Safety made beautiful!
Enhance object visibility with RheoLight Crystal Glass Pigments. Using our RheoLight Dispersions to develop new colors, you can create sensor-friendly and beautiful color shades for every industrial application.
After years of research, we proudly announce that Ink Invent has achieved the impossible: the world's first 1-10 micron Crystal Glass Pigments provided as ready-to-use dispersions for incorporation into existing paints and coatings, further completing the RheoLight™ product portfolio. RheoLight's Crystal Glass Effect Pigments are a masterpiece in optical brilliance. Like diamonds, they refract light with ever-changing reflections,
Now you see me!
Vulnerable Road Users (VRU) can enjoy the benefit of increased visibility using RheoLight in your color coatings.
With the creation of our Crystal Glass Pigments, RheoLight defines a new class of effect pigments as the foundation of its Tunable Detection & Determination (TDD®) Technology. This technology allows for enhanced visibility of objects for Computer Vision, LiDAR, and the human eye, enabling improved accuracy and response times in traffic environments.
Awards
Celebrating Our Milestones
Ink Invent is honoured to announce that their product, RheoLight has been named a CES® 2024 Innovation Awards Honoree in the category 'Smart Cities' as a recognition for the outstanding design and engineering features.
"Smart colors: RheoLight sets the bike frame aglow. The pigments are compatible with water-based and conventional paints and can be applied in the usual way. When it's dark, the tubes light up – no matter the frame's color."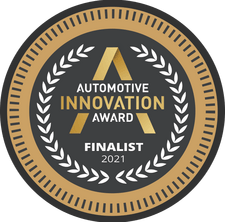 "The jury was unanimous in its opinion that your entry belongs to the frontrunners within the Dutch Automotive sector and is therefore pleased to nominate it for the Automotive Innovation Award 2021."
"According to the jury, this innovation clearly contributes to increasing the safety of cyclists in traffic. The jury is very impressed that the bicycle lights up so well. The additive is very unique and certainly promotes safety on the road."